My husband normally pulls me along on camping trips. A typical guy he loves to play survivor. Our camping trips always seem to be a bit dramatic. The first camping trip we went on was in the Adirondacks in May, and it turned out to be a bone chilling rainy weekend. The first night of camping we found out no fires were allowed. Seriously, who goes camping without a fire that is half of the fun. Once we set up our tent five men camping together decide to set up shop literally less than 50 feet away from us. So much for a romantic weekend for a long distance couple. I then find out my Davy Crockett forgot to pack utensils, pots and pans, and anything else we needed to survive. We were forced to share the neighboring camper's supplies before snuggling in our tent for warmth and wondering if they could see our risque actions through the shadows of our tents. The next morning we woke up to find a hungry bear had ripped open our food! The sad thing was the bear didn't even eat one crumb of the food we had because it was so granola and healthy. How was I going to eat this stuff? I'm not a junk food addict, but I am certainly not a bird, and in the cold weather I wanted some hearty food. The second night we ended up setting up our tents during a rain storm under a shed, before the sun went down I convinced my partner maybe we should leave and get a cheap motel. Luckily he agreed and two hours later we were pillow fighting after a hot shower and chowing down on all the pizza and wings our bodies could handle. Luckily his camping trips were not a deal breaker and I married him a year later.
My last trip I had with my husband David has inspired me to take control of our next camping trip, and yes we will be glamping. Once again in during a chilly May season it was just on the brink of summer yet there was still a chill in the air, my husband decides to plan a huge camping trip with friends. Of course we have to be the ones up at 5 am to drive and reserve the special campsites. David decides he wants the most secluded spot in the park, a section you have to row an hour to get to and there is only one campsite to the right of you and miles of national park and wildlife in the back. After lugging our tents, food, coolers, and gear to the island David tells me he needs to row back around 4 pm to gather his friends. He asks will I be alright if he left me alone for a few hours? What's the worst that could happen, a wolf decides I'm a juicy meal? I assure him I'm a big girl and I'll be fine by myself. I will pimp out our tent and read a book. He decides to leave the food down since we haven't eaten yet, and builds a fire to ward off the bears. After he rows away I find I had left my cell phone in the car. I only had my ipod to keep track of the time, but I was so busy fighting off flesh eating flies and keeping the fire going I lost track of time. As the sun began to set I started to get impatient. Every time I heard a group of people rowing closer I would run to the shoreline as if I was  a cast away hoping it was our group, but every time the campers rowed to the left where all the campsites where. Before I knew it 4 pm turned into 9 pm. Was this his way of breaking up with me? I know I can be dramatic at times, but really? Just row your wife to a deserted island and leave her without a phone, maybe a bear eat me. I can't believe i agreed to this. I heard a rustle in the woods a few times so I worked harder at making the two small fires into gigantic bonfires. I thought of all the possibilities. Maybe the park ranger wouldn't allow them to come back to the island after hours and I would be surviving the night alone. Did his friends get lost? I ran back and forth for hours it seemed until finally i heard the laughter of David coming closer. I was so happy they arrived I couldn't get mad at him, but next time we go camping it's on my terms.
What exactly is glamping? It is luxury camping. I love nature and the wilderness, but I would prefer to do it on my terms. There have been many nights of camping on beaches where I woke up to the hard sand under my bum and hermit crabs digging tunnels under my back. As I am getting older my interests are the same but my tastes have changed, and that leads me to glamping. It is that happy in between place my husband and I can agree on. If he wants to play survivor where he lives off apples and granola, sleeps freezing on the ground, and questions why did he go camping in the first place he can do that with his friends. If he wants to enjoy nature and cooking a yummy meal on an open fire, watching the stars while hearing sounds of wild animals, and wake up comfortable next to me, then he can go glamping with me.
To glamp on your own just add some extras to your tent, a blow up mattress with flannel or silk sheets depending on the season.  A nice plush pillow and a colorful quilt. Add some pillar candles that are half way used to prevent fire hazards, solar lights, a soft rug, tiny side table that is easy to pop up, and add a little table and chairs with a vase and flowers for eating.
If you want to go all out there are glamping sites now popping up quicker than pop up tents all across the world. When David and I were dating he took me glamping without realizing it :} There is a great location in Tolum Mexico called Don Diego de la playa.
It is beach front glamping at its best in the heart of Tolum. It is on a safe property which is guarded at night. Seperate tents are set up across the property. At first glance they seem like little huts, but when you step inside they are surprisingly comfortable. Each has a dresser, bed, and lights that work during certain hours. Breakfast is included and the bathrooms and showers are shared in the common area. It is a fun and romantic retreat.
My cute little bedouin tent
Glamping doesn'thave to be like this
http://www.tripadvisor.ca/Hotel_Review-g150813-d1203508-Reviews-Don_Diego_de_la_Playa-Tulum_Yucatan_Peninsula.html
Check out these glamping spots!
Moab under canvas, UTAH $79 per night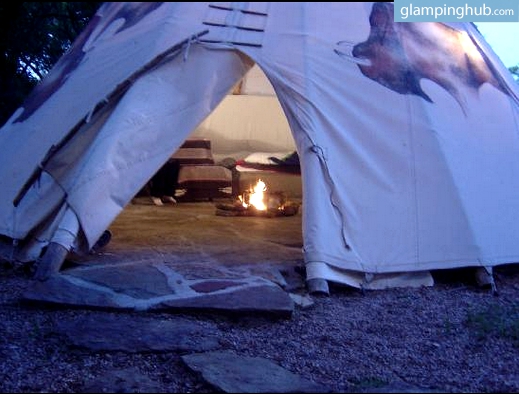 Lovely Tipi next to Brownwood TEXAS, $139
Luxury tent cabins near Spokane WASHINGTON $161
Upstate NY, $121
Elegant Safari Tents Canada $170
Spain $70 Euros
Spain $65 Euros
UK Scotland $65
UK $90 Euros
For more information check out these websites for availability and locations! Go glamping! Spain and the UK looks amazing!